2018 Sandalford Winemakers Cabernet Merlot
The Winemakers Range is all about delivering quite simply the best Western Australian wine at the best price. Quite simply, "Bang for your buck!" These wines are a blend of both the Margaret River and Swan Valley regions. In other words we have the riper, richer notes from the Swan with the cooler climate, more elegant and sophisticated characters from Margaret River. There are no lashings of oak and winemaking artefact here, just great fruit-driven wines from vines up to fifty years of age. These wines are all about balance, harmony and drinkability without burning a hole in your purse or wallet! So go on, have a crack and let us know the outcome! As always, enjoy in moderation.
Winemaker comments
Winemaker Notes
Usual stuff here … Ben (with some help) picked it, then Troy and Greg crushed it into the fermenter. Troy rehydrated the yeast and then it was fermented. It was on skins for about a week before being pressed to separate the wine and the skins. The wine was then left for a small time to mature before bottling.
Meet the maker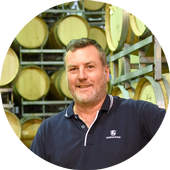 By the time I turned 18, I had become fascinated with wine. I was keen to learn as much about wine as I could and I received some great advice: to work in the industry before committing to any tertiary study....
Continue Reading >
I was lucky enough to get my start at the cellars at Houghton Wines, here in the Swan Valley. I loved it, and it was the beginning of a career which was to eventually see me spend 20 years with Houghton's. But first, I wanted to discover what traditional winemaking was like in the northern hemisphere. I took myself off to Burgundy, France, where I worked several vintages learning as much as I could about the craft of winemaking from some the best in the business. Returning to Australia I continued my career, picking up a few awards in the process of learning more and more about winemaking and achieving Bachelor of Applied Science and Oenology at Charles Sturt University, NSW. I was awarded the inaugural Gourmet Traveler Young Winemaker of the Year 2001, James Halliday's Winemaker of the year in 2009, Winemaker of the Year in Ray Jordan's 2017 Annual West Australian Wine Guide, and I've judged extensively at capital city and regional wine shows. Australia makes some amazing world class wines! I've been fortunate to be Senior Winemaker at Sandalford Wines since March 2021 and I'm delighted every day by our estates' old vines, the passion of the viticulture team here, and the outcomes we are able to achieve each vintage.
Show less
Tasting notes
Varietals
Colour
Other Notes
Dark cherry red.
Nose
Production
Berries and currant.
Palate
Tasting Note
This is just one of those classic blends. Definitely a fruity wine, with currants and berries but it's had time to sit and mellow. This has let more savoury and brambly flavours into the mix. Another one of those drinkable wines – definitely a pizza and pasta wine this one. Don't wait any longer, drink it now.
Vintage Conditions
Vineyard Notes
For the 2018 vintage, I can say it again. It's been another great year … there was no rain and no heat spikes.
2018 Sandalford Winemakers Cabernet Merlot