2019 Sandalford Estate Reserve Shiraz
Dark black fruits, savoury spices, star anise and black pepper overlayed with smoky vanillin oak, cedar and chocolate box nuances.
Winemaker comments
Winemaker Notes
Machine picked in mid-April 2019, these Shiraz grapes were destemmed to small 5 tonne open fermenters before being inoculated with a selected yeast isolate. The fermenting must was pumped over twice daily to extract flavour, colour and tannin. Once the right amount of extraction was achieved, the ferment must was then pressed to tank to complete primary ferment. The wine was inoculated for Malolactic Fermentation (MLF), before being transferred to 100% French oak barriques (30% new) for maturation. The wine then spent 14 months maturing in barrel prior to blending and bottling.
Meet the maker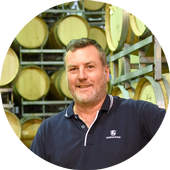 By the time I turned 18, I had become fascinated with wine. I was keen to learn as much about wine as I could and I received some great advice: to work in the industry before committing to any tertiary study....
Continue Reading >
I was lucky enough to get my start at the cellars at Houghton Wines, here in the Swan Valley. I loved it, and it was the beginning of a career which was to eventually see me spend 20 years with Houghton's. But first, I wanted to discover what traditional winemaking was like in the northern hemisphere. I took myself off to Burgundy, France, where I worked several vintages learning as much as I could about the craft of winemaking from some the best in the business. Returning to Australia I continued my career, picking up a few awards in the process of learning more and more about winemaking and achieving Bachelor of Applied Science and Oenology at Charles Sturt University, NSW. I was awarded the inaugural Gourmet Traveler Young Winemaker of the Year 2001, James Halliday's Winemaker of the year in 2009, Winemaker of the Year in Ray Jordan's 2017 Annual West Australian Wine Guide, and I've judged extensively at capital city and regional wine shows. Australia makes some amazing world class wines! I've been fortunate to be Senior Winemaker at Sandalford Wines since March 2021 and I'm delighted every day by our estates' old vines, the passion of the viticulture team here, and the outcomes we are able to achieve each vintage.
Show less
Tasting notes
Varietals
Colour
Other Notes
Deep, dark cherry red.
Nose
Production
Dark black fruits, savoury spices, star anise and black pepper overlayed with smoky vanillin oak, cedar and chocolate box nuances.
Palate
Tasting Note
The palate is full flavoured and structured. The dark berry flavours of blackberry, mulberry and blueberries mingle with the savoury spices. There's a savouriness to this wine in support of the dark fruit and spice notes. The tannins are rounded and supple and in balance with the acid. The finish is rich and lingering. A wine that will age gracefully for at least another decade if stored in ideal cellaring conditions.
Vintage Conditions
Vineyard Notes
Whilst the majority of Australia experienced a hot summer with above average temperatures in 2019, the southwest corner of WA encountered quite the opposite. Temperatures for the growing season were cooler than the long-term averages. These milder conditions resulted in a delayed ripening pattern for most varieties resulting in slow flavour accumulation. With no disease pressure, all grapes were harvested with a good balance of sugar, flavour and tannin ripeness. The resulting red wines are elegant in style displaying wonderful varietal characters.
2019 Sandalford Estate Reserve Shiraz