2021 Sandalford Element Classic White
Vibrant, fresh fruit flavours abound on the palate. The flavours on the nose follow onto the palate revealing layers of citrus, tropical fruits, apple and lemongrass. Whilst easy drinking, this wine has a lovely texture and well-balanced acid that leads to a vibrant finish. Serve well chilled and drink whilst young and fruit bright
Winemaker comments
Winemaker Notes
The grapes for this wine were machine harvested in the cool of night during February 2021. Following crushing and pressing, the clarified juice was fermented in stainless steel tanks using a specially selected yeast strain. Ferment temperatures were deliberately kept cool to retain the fruit aromatics. Once fermentation was complete, this wine was carefully blended together to make this consistent fruit driven style.
Meet the maker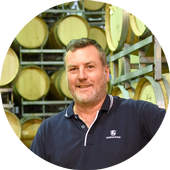 By the time I turned 18, I had become fascinated with wine. I was keen to learn as much about wine as I could and I received some great advice: to work in the industry before committing to any tertiary study....
Continue Reading >
I was lucky enough to get my start at the cellars at Houghton Wines, here in the Swan Valley. I loved it, and it was the beginning of a career which was to eventually see me spend 20 years with Houghton's. But first, I wanted to discover what traditional winemaking was like in the northern hemisphere. I took myself off to Burgundy, France, where I worked several vintages learning as much as I could about the craft of winemaking from some the best in the business. Returning to Australia I continued my career, picking up a few awards in the process of learning more and more about winemaking and achieving Bachelor of Applied Science and Oenology at Charles Sturt University, NSW. I was awarded the inaugural Gourmet Traveler Young Winemaker of the Year 2001, James Halliday's Winemaker of the year in 2009, Winemaker of the Year in Ray Jordan's 2017 Annual West Australian Wine Guide, and I've judged extensively at capital city and regional wine shows. Australia makes some amazing world class wines! I've been fortunate to be Senior Winemaker at Sandalford Wines since March 2021 and I'm delighted every day by our estates' old vines, the passion of the viticulture team here, and the outcomes we are able to achieve each vintage.
Show less
Tasting notes
Varietals
Varietal
Sauvignon Blanc Semillon
Colour
Nose
Production
Vibrant, fresh fruit flavours abound on the palate. The flavours on the nose follow onto the palate revealing layers of citrus, tropical fruits, apple and lemongrass. Whilst easy drinking, this wine has a lovely texture and well-balanced acid that leads to a vibrant finish. Serve well chilled and drink whilst young and fruit bright
Palate
Tasting Note
A tropical fruit salad full of passionfruit, citrus and gentle herbaceous notes. There's also stone fruit and orange blossom adding to the appeal.
Vintage Conditions
Vineyard Notes
The 2021 vintage could be best described as challenging. A reflection of the wetter than average summer impacting picking decisions. Our Caversham and Wilyabrup vineyards however fared well and produced fresh, bright, flavoursome fruit to make wines from. Grapes were phonologically ripe at time of picking and harvested with an optimal balance of sugar and flavours. The resulting wines are fresh and display wonderful, bright varietal fruit characteristics.
2021 Sandalford Element Classic White