Sandalford Sandalera
The richness suggested in the bouquet becomes obvious on the palate, and is the product of sun ripened Swan Valley grapes harvested at optimum maturity.
Winemaker comments
Winemaker Notes
A luscious, opulent and unique dessert wine from Western Australia's sun-drenched Swan Valley.
Meet the maker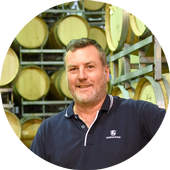 By the time I turned 18, I had become fascinated with wine. I was keen to learn as much about wine as I could and I received some great advice: to work in the industry before committing to any tertiary study....
Continue Reading >
I was lucky enough to get my start at the cellars at Houghton Wines, here in the Swan Valley. I loved it, and it was the beginning of a career which was to eventually see me spend 20 years with Houghton's. But first, I wanted to discover what traditional winemaking was like in the northern hemisphere. I took myself off to Burgundy, France, where I worked several vintages learning as much as I could about the craft of winemaking from some the best in the business. Returning to Australia I continued my career, picking up a few awards in the process of learning more and more about winemaking and achieving Bachelor of Applied Science and Oenology at Charles Sturt University, NSW. I was awarded the inaugural Gourmet Traveler Young Winemaker of the Year 2001, James Halliday's Winemaker of the year in 2009, Winemaker of the Year in Ray Jordan's 2017 Annual West Australian Wine Guide, and I've judged extensively at capital city and regional wine shows. Australia makes some amazing world class wines! I've been fortunate to be Senior Winemaker at Sandalford Wines since March 2021 and I'm delighted every day by our estates' old vines, the passion of the viticulture team here, and the outcomes we are able to achieve each vintage.
Show less
Tasting notes
Varietals
Colour
Other Notes
Deep amber tawny.
Nose
Production
Rich raisined rancio characters highlight this unique sweet white dessert wine.
Palate
Tasting Note
The richness suggested on the nose becomes obvious on the palate, and is the product of sun ripened Swan Valley grapes harvested at optimum maturity. The resultant wines are given extended maturation in old oak barrels to achieve an even greater degree of richness and complexity, before final blending and bottling.
Vintage Conditions
Awards & Recognition
Swan Valley Wine Show 2006
Qantas Wine Show of Western Australia 2005
Qantas Wine Show of Western Australia 2005
Qantas Wine Show of Western Australia 2003
International Wine and Spirit Competition 2002
Sheraton Perth WA Wine Awards 'Most Successful Exhibitor' 2002
Sheraton Perth WA Wine Awards 2002
Reviews
A sepia toned offering comprising of a pedro blend, Sandalera is spun sugar on a raisiny spool. Powerful the trinity of rancio, butterscotch and toffee. Timbery oak features on the forefront providing a sweet cinnamon lift. Unapologetically upfront and 'in ya face', there is an interplay with a smidgen of young freshness. The brandy spirit is slipped neatly under the covers and rounds off this delivery superbly. Smooth like Egyptian cotton.
Jason Boudville, Spice, Winter 2009
92/100. Lots of rancio nuttiness, with good fruit concentration and quite fresh for the style; the old material contributes to complexity.
James Halliday, Australian Wine Companion 2009, July 2008
A classic, one of the great fortifieds of the country.
Stuart Gregor, SCOOP Magazine, Autumn 2007
This may well be Western Australia's best kept wine secret. WA for one reason or another, produced few iconic dessert wines but with this blend of Pedro Ximenez and Muscadelle grapes Sandalford has created a wine worthy of the numerous medals it has received. The nose is full of toffee and raisins and carries through into a wine tasting of rich toffee and dates. This is a classic 'sticky', none of the old school tawny flavours here just sweet, sunny smoothness that encapsulates all four seasons of Western Australia in a bottle
Brisbane Lawyer, 15 September 2005
It is fortified like your average muscat or tokay and the result is an extraordinarily intense wine with malty, nutty toffee flavours and incredible length. This wins a trophy or gold medal every time it enters a show in Western Australia and is unquestionably that state's greatest fortified wine.
Stuart Gregor's Wine Guide, 2003
Sandalford Sandalera